Regular price
$15,007.00 AUD
Regular price
Sale price
$15,007.00 AUD
Unit price
per
Sale
Sold out
or 12 months interest free on purchases over $5000. Fees apply.
ⓘ
Secure your Smartkit today!
Please Note: If you wish to confirm your order with a 50% deposit rather than full payment right now, please check the box above ADD TO CART, and you will only have to pay 50% at checkout. Balance is payable 7 days before delivery. ZIP Payments cannot be used on 50% deposit sales.
PEACE OF MIND ORDERING

Every single online order gets a call from one of our in-house builders (not a salesman), to make sure you have ordered exactly what you need. We can make changes for you before we put your order into fabrication. You have the peace of mind that you will get exactly what you need.
DELIVERY ESTIMATES

Depending on the time of the year, your location  and demand, delivery estimates vary. For 90% of the year (not including December), new Smartkits can be delivered in 2-3 weeks in East Coast Metro areas, 3-4 weeks in regionals, and within 6 weeks everywhere in Australia (Except very remote areas of Nothern WA and the NT). We have seen improvements and delays decrease as 2023 goes on. We will always keep you informed on delivery dates, and most of our customers have been very happy with the time involved in receiving their new Smartkit.
FREE SHIPPING on all Smartkits ordered onlinefor a limited time. Save between $300 & $1000 on delivery. Discount ONLY applies to DIY Kits, Not Parts or Services.
Australia's Number 1 Flyover Roof system delivered straight to your door! Designed to blend in with the modern Australian Home and give you extra height and better ventilation.
        Inclusions of this 100% Australian Made, COLORBOND Steel, D.I.Y. Flyover Roof Kit-
-Non-Insulated Roofing with a choice of a Modern Corrugated Roofing profile or a Flat Underside Finish Profile. Overall projection of 6m. 
- 75x75mm Steel Posts (Coloured) to go into footings or attach to concrete slab/deck in 3m lengths.
- 100mm/150mm/200mm x 50mm Steel Beams to suit (varies as per engineering requirements). 
- Custom Made Jumbo Roof Penetration Bracket to attach to top-plate of your house. Brackets are 500mm long and suit both tile and metal roofs (Dektite included). 
- Square/Quad Guttering, barge capping, flashings and 1x Metal/PVC down-pipe.
- All capping's, connectors, fixings and hardware for assembly. 
Wind rating- N2(W33) (We can change this from N3 to N4 and C1 to C4 as required at extra costs).
Click here to view roof plan.- Modern Corrugated Profile.
Click here to view roof plan.- Premium Flat Underside Profile. 
Click here to see more photos.
General FAQs-
1- We offer a wide range of customisation in these kits- timber posts (client supplied; please let the design consultant know when they contact you), custom shapes, angles and sizes etc etc. You can slope towards your house or away from your house. You can modify this design easily to fit a "L" shaped section of your house (attached on 2 sides). 
2- All our Kits are Completely Engineered and Council Compliant. All documents, drawings and paperwork included. 
3- You can add lights and fans to the beams on this roof. Qualified Electrician must do the main connection.  
4- We recommend building the roof first and then doing the slab around it for better finish and aesthetics. To bolt to concrete slab, minimum thickness is 100mm. 
Have questions, need changes, need customisation or want help? Please feel free to contact us! 
Phone- 1800-827-889
View full details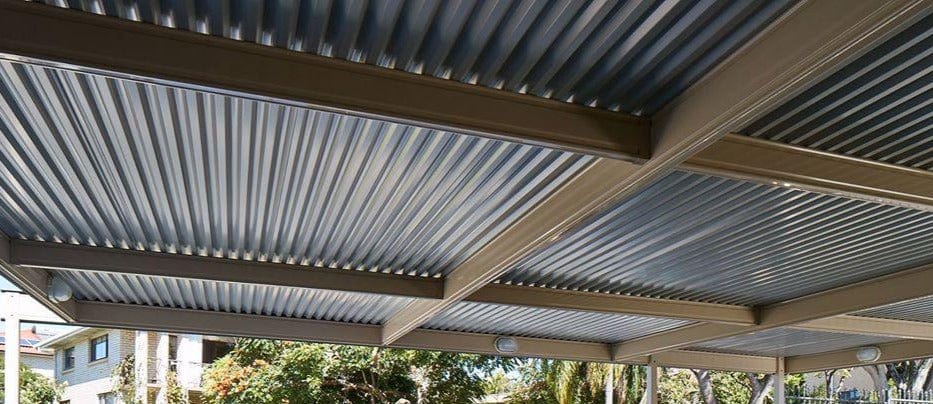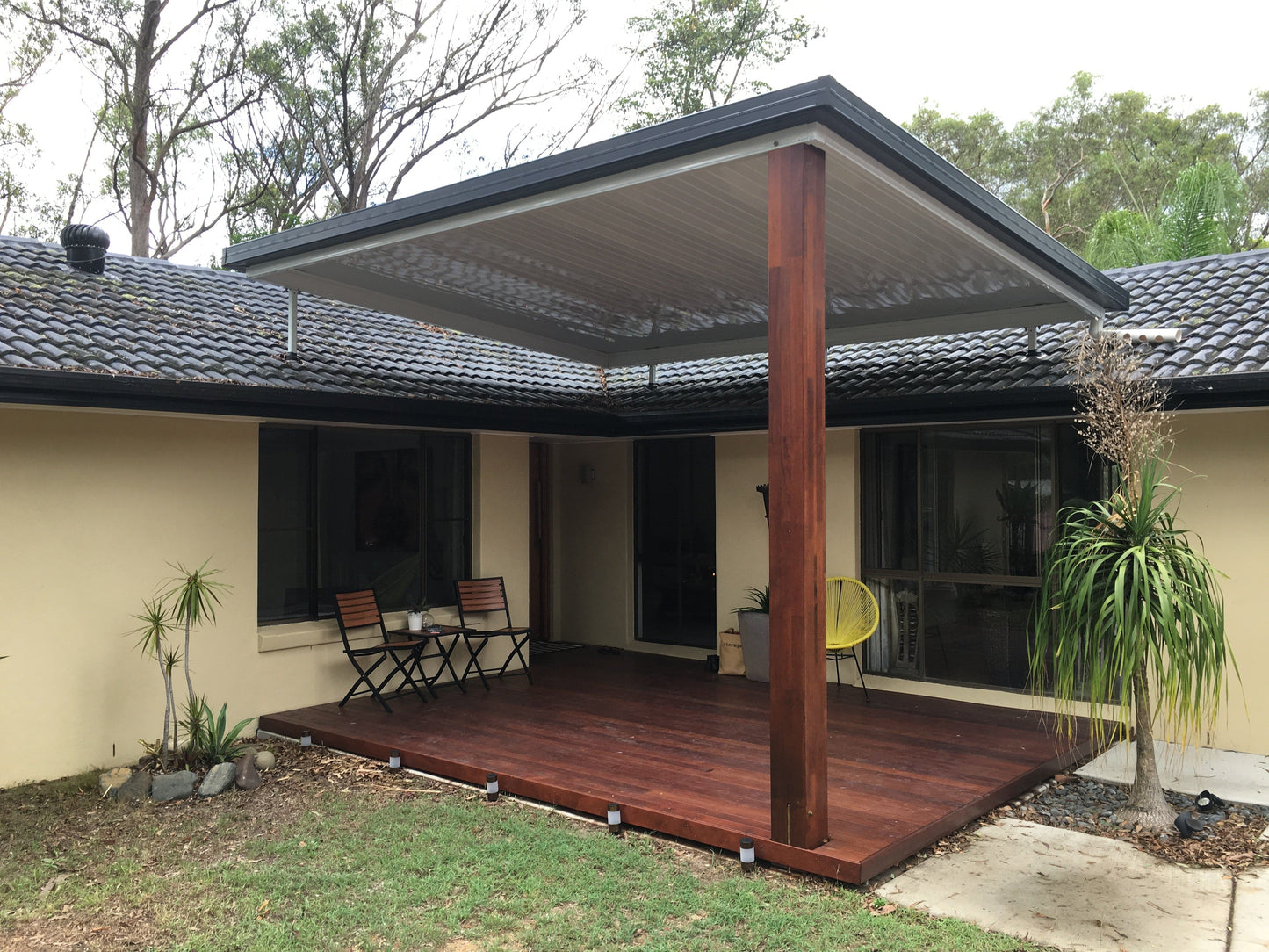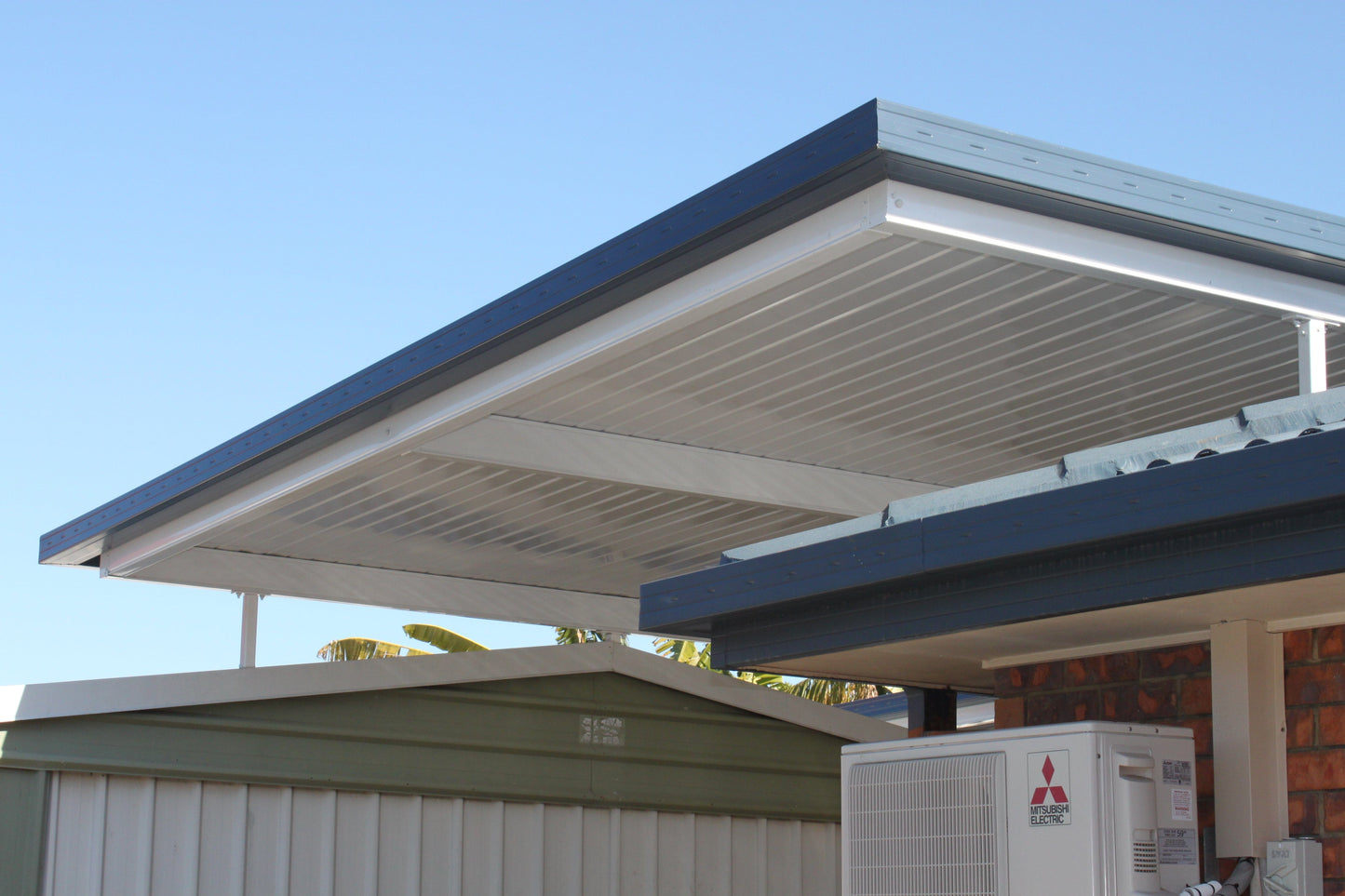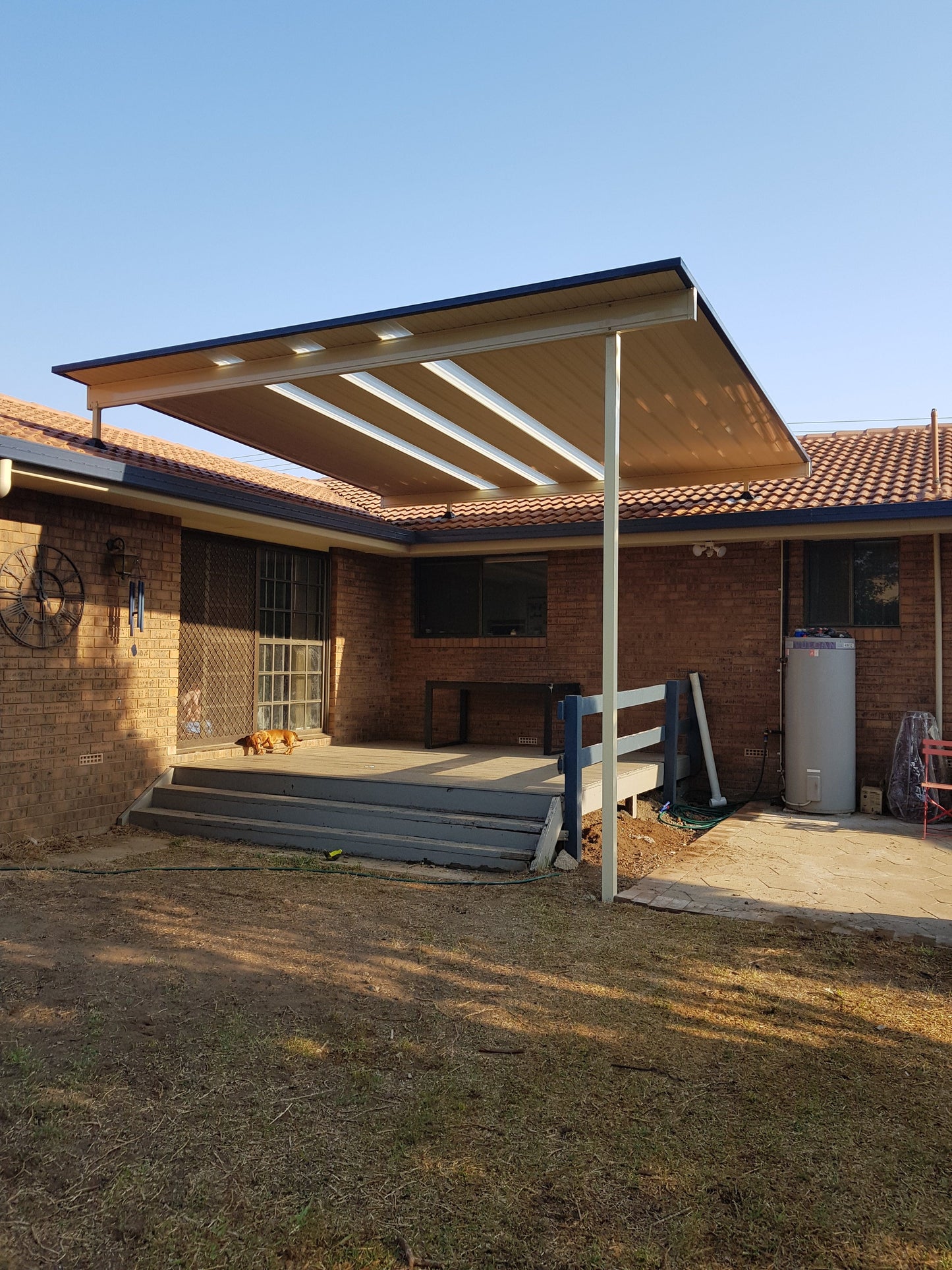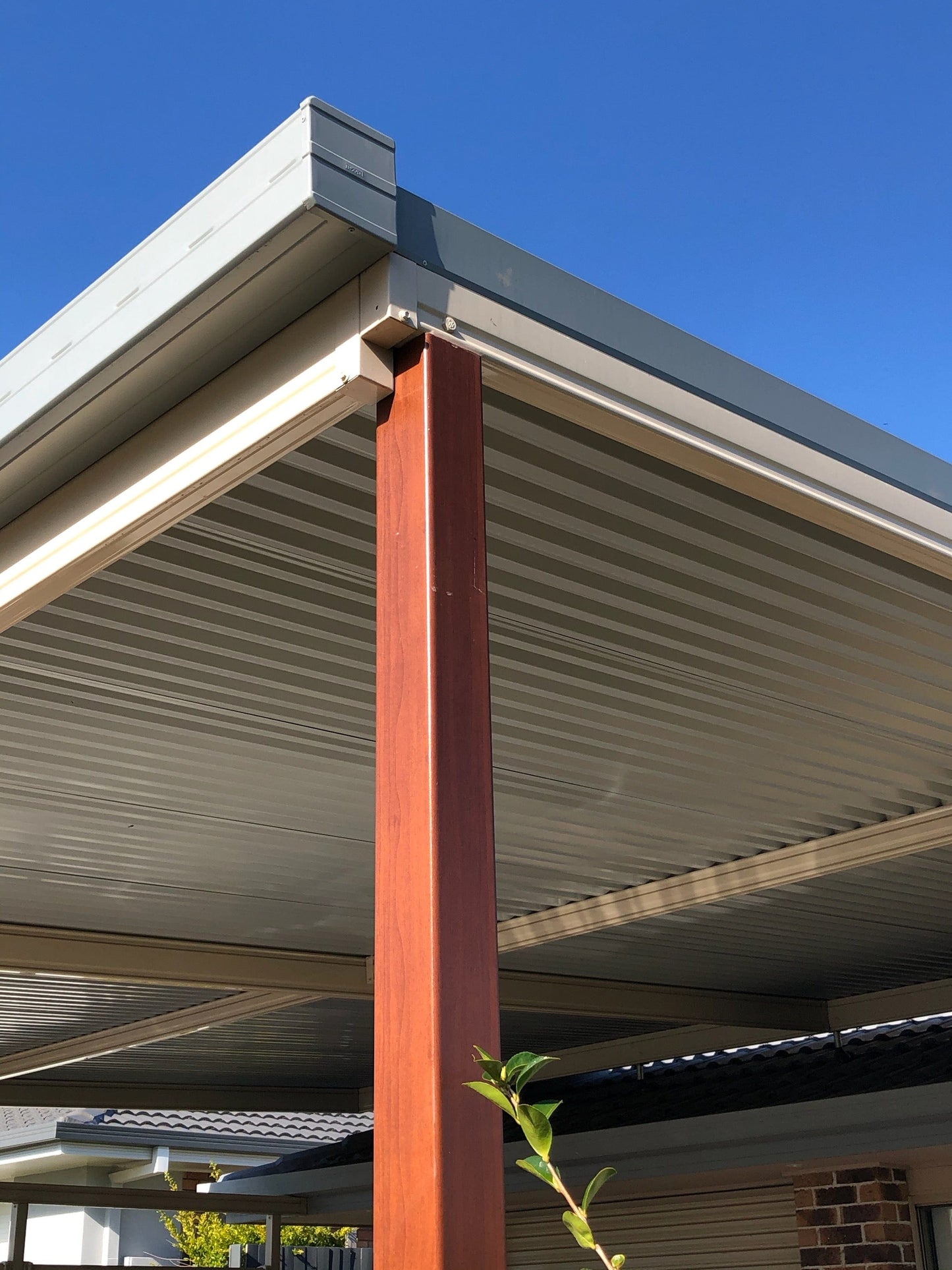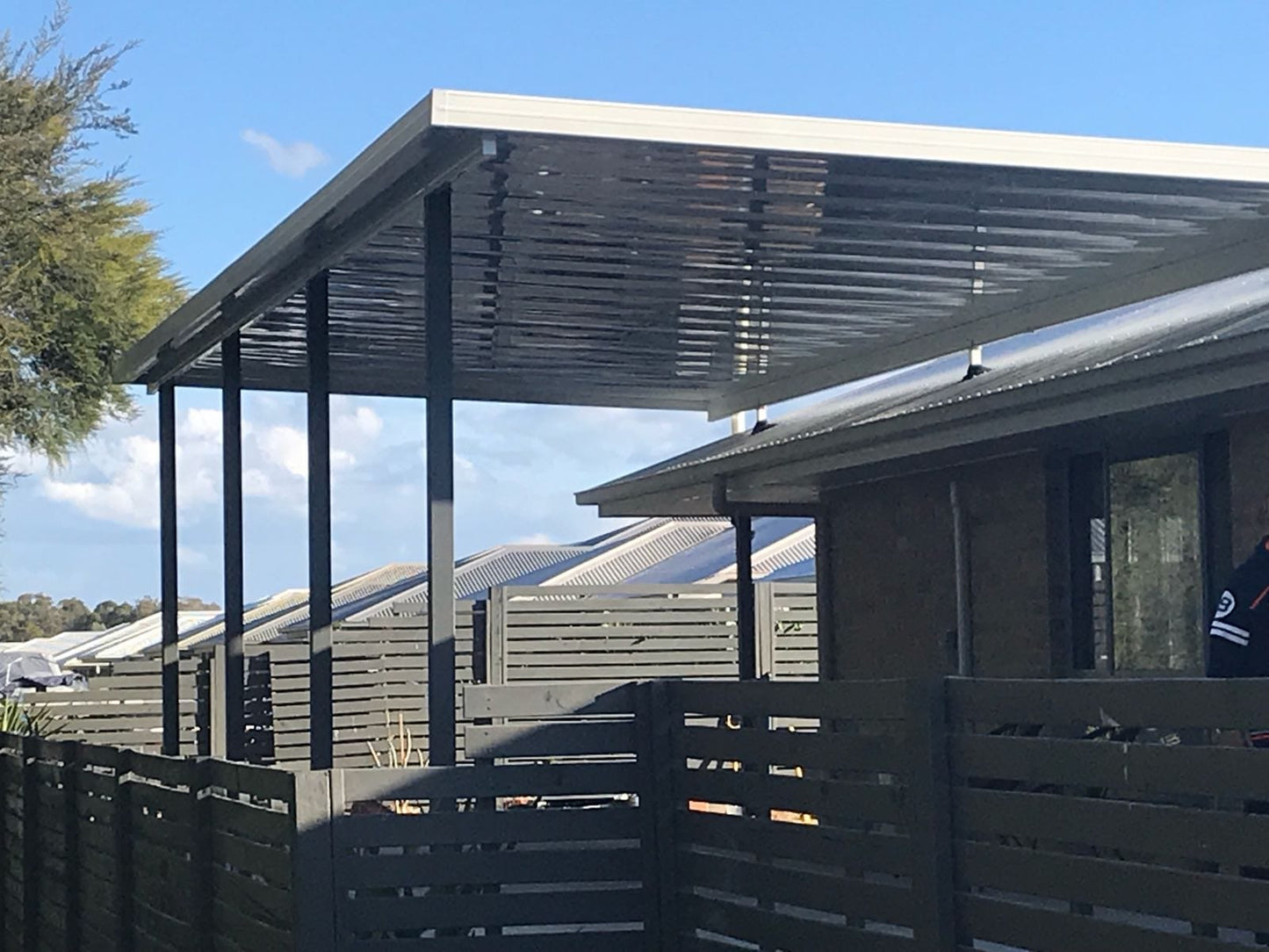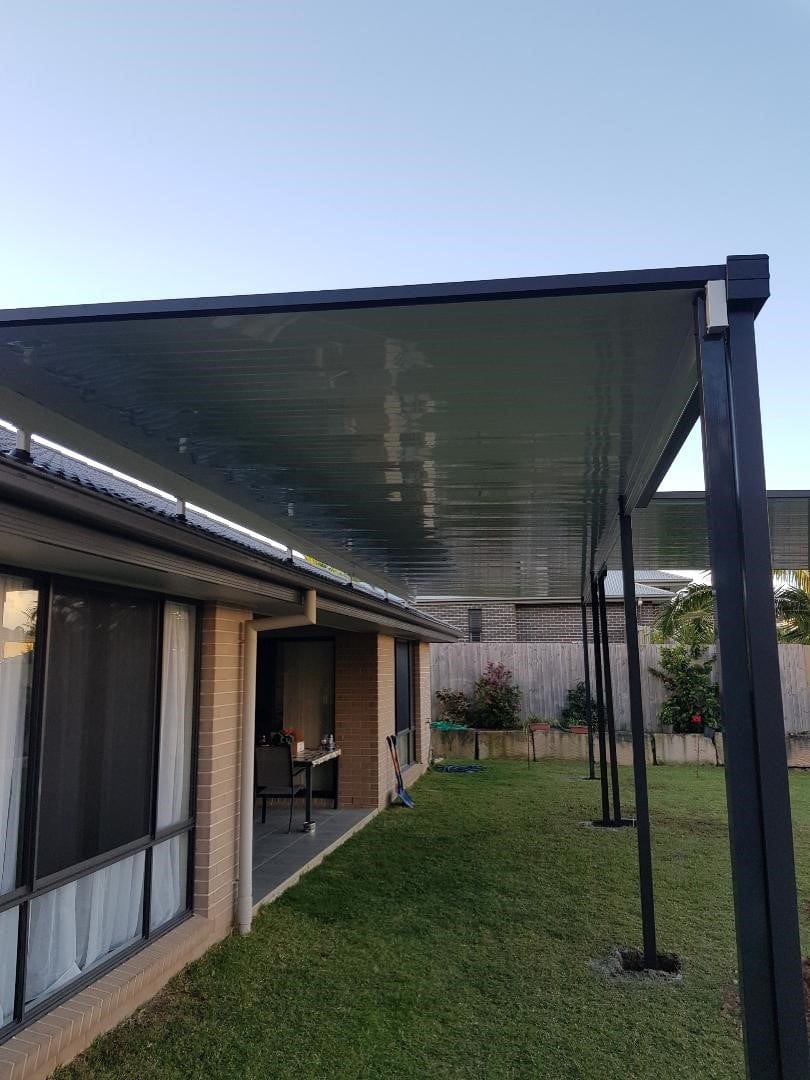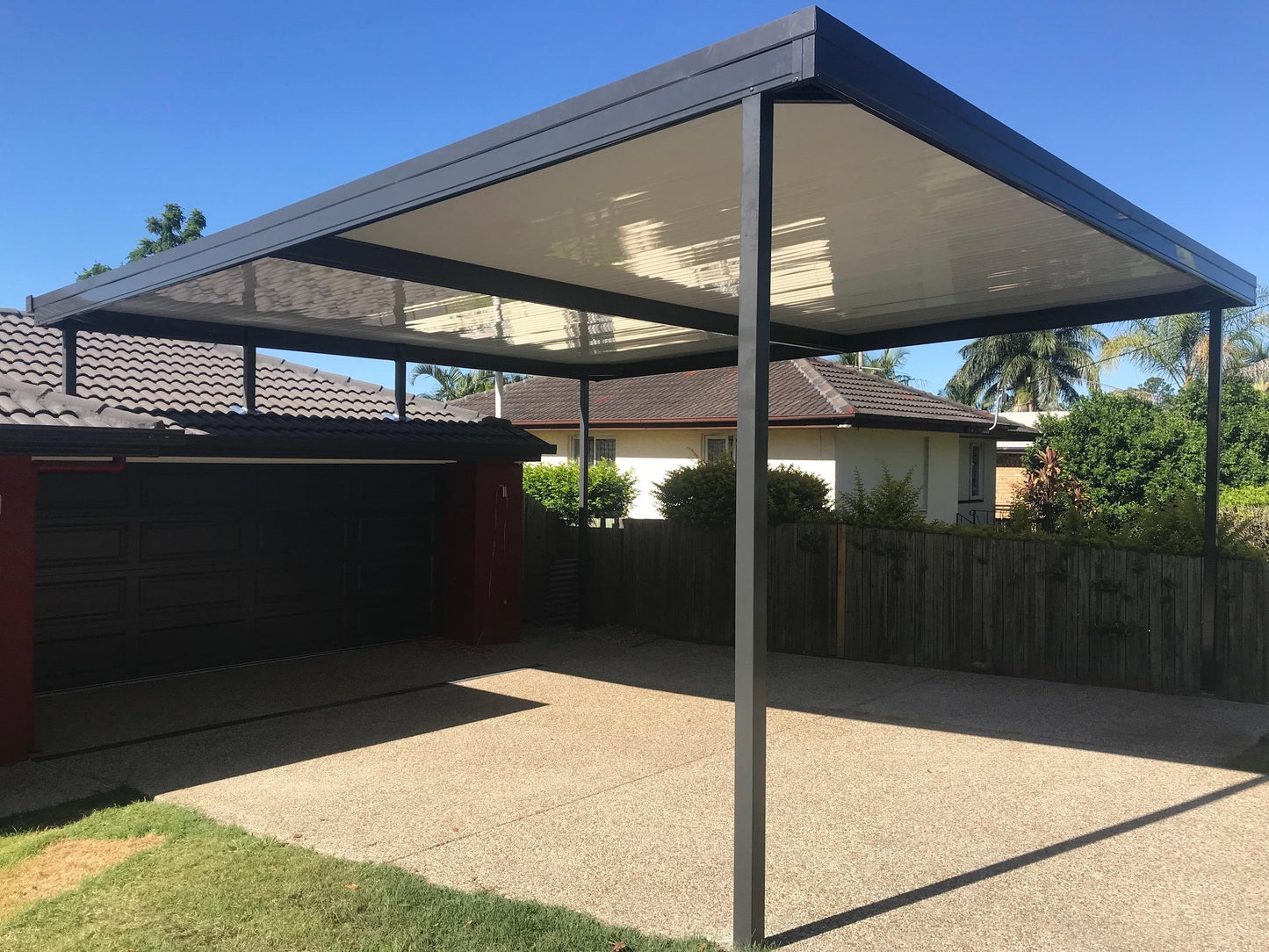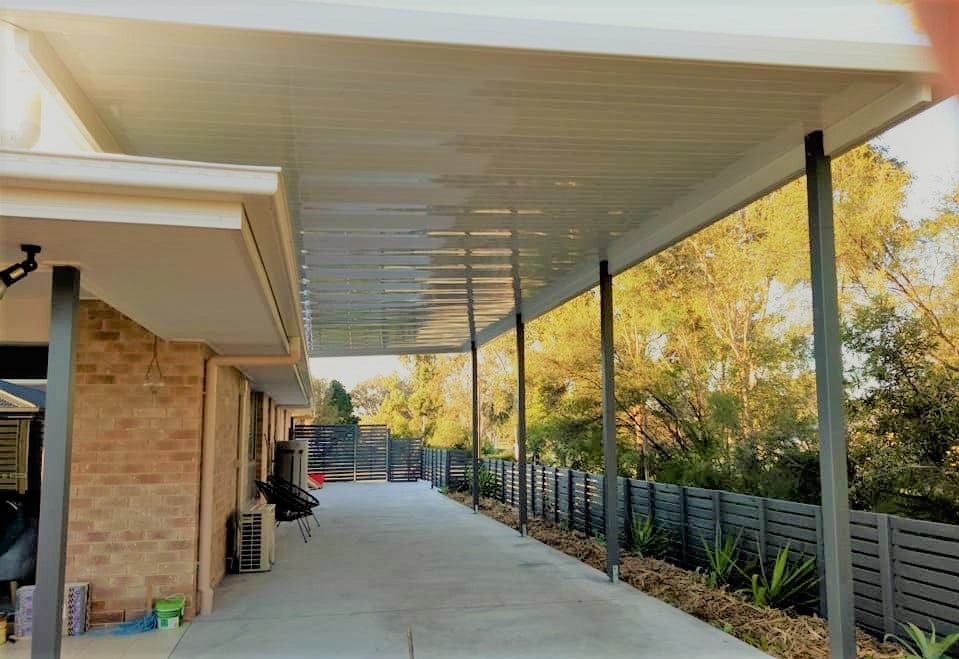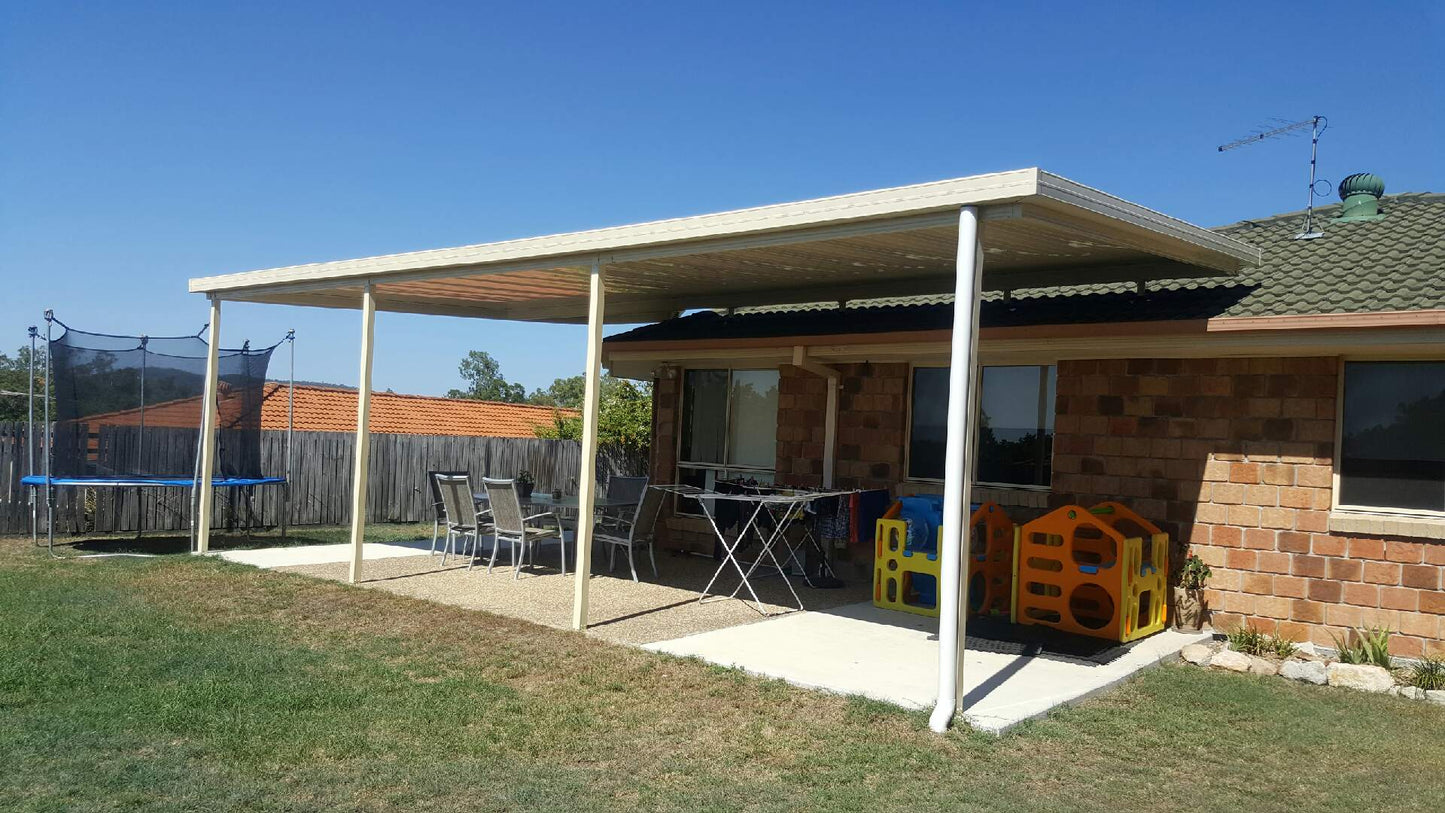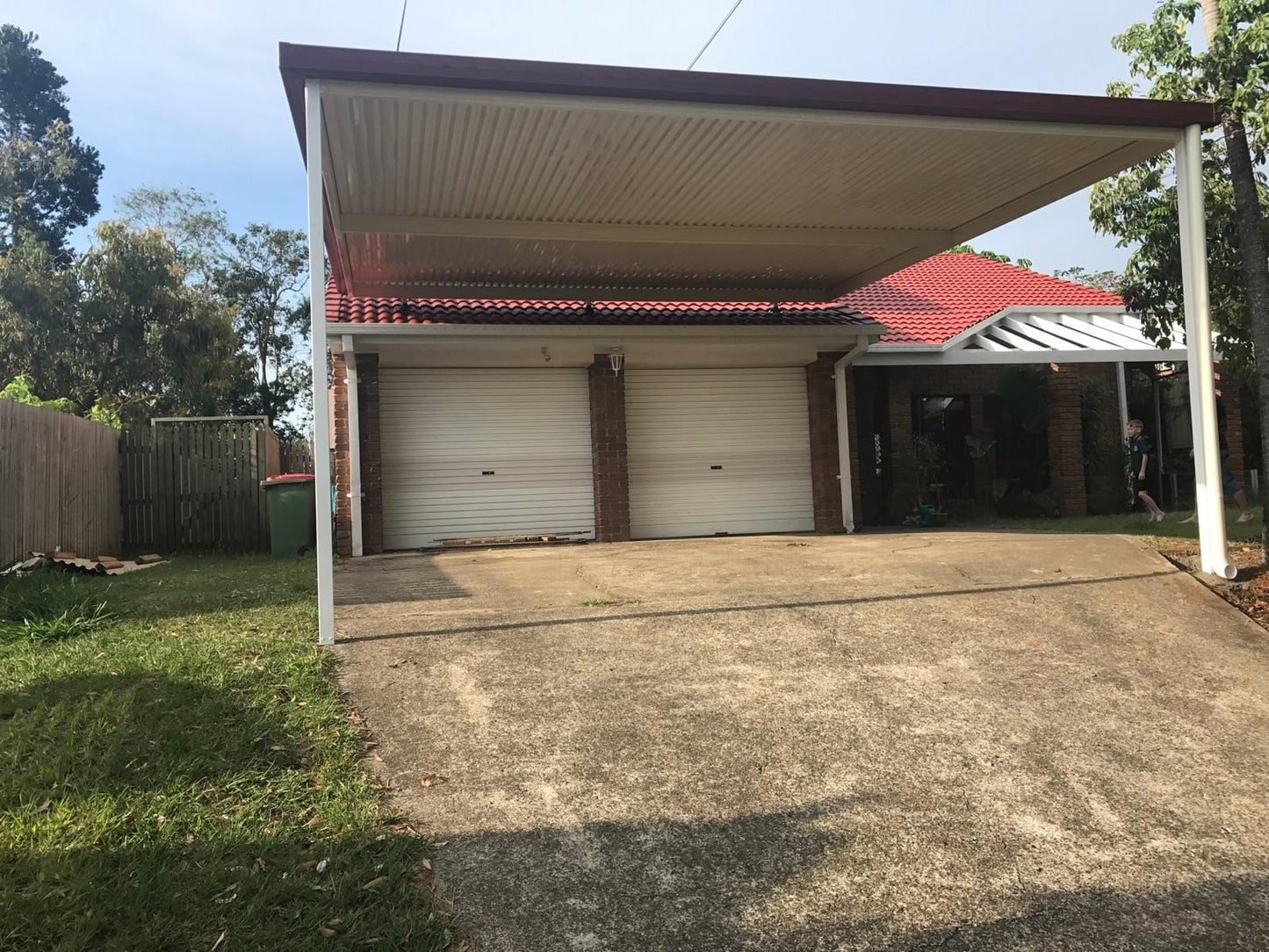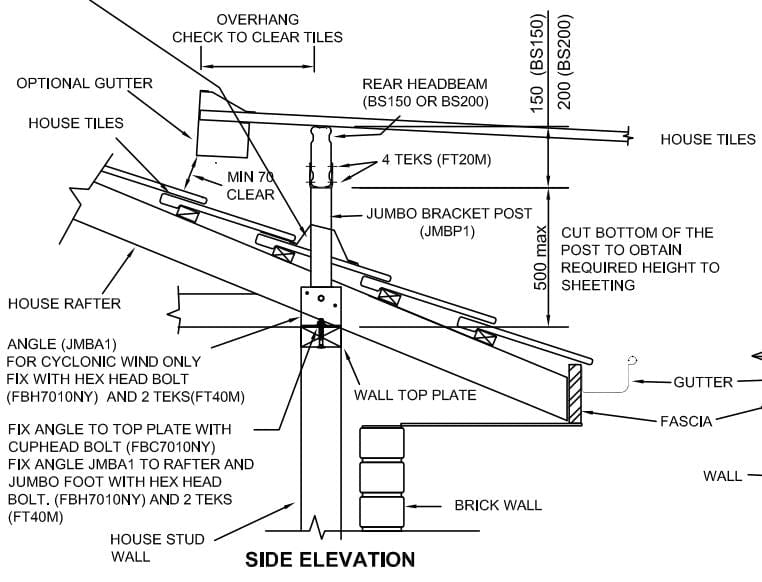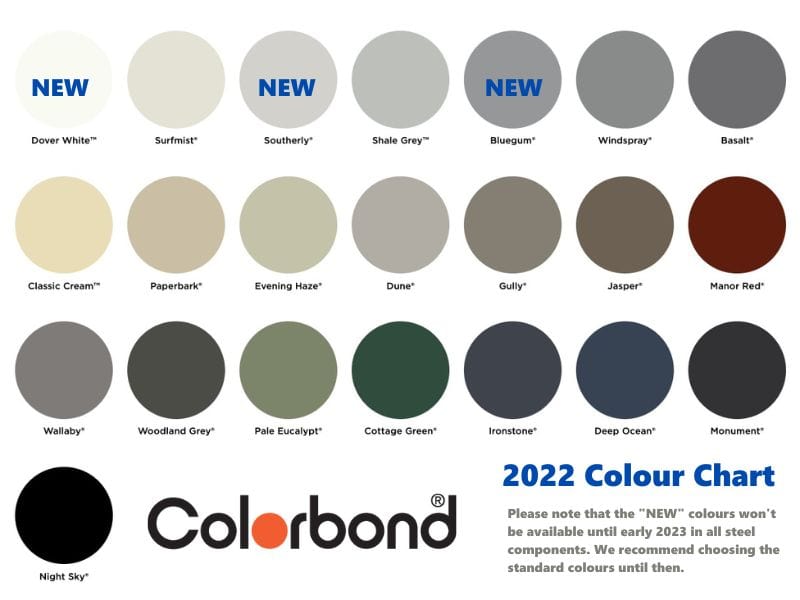 OUR HAPPY CUSTOMERS LOVE SMARTKITS
Jackie M
Non-Insulated Flyover Roof with our Modern, Corrugated Finish roofing
I have been watching all of these beautiful structures going up and I thought I would submit some of my beautiful, Non-Insulated Flyover Roof, that's been 18 years in the planning stage!Due to being an inventive person and looking outside the normal company's and money availability, I did a lot of research. We had so many quotes for over priced pergolas!Today myself and my husband are happy to show off the lovely, family oriented area we now have. Thanks to Scott and the team at SmartKits Australia for the help and support they gave me in me doing this as a woman!
Anthony & Jayne
Non-Insulated Flyover Roof with our Premium, Flat Underside finish roofing
We chose SmartKits for our Flyover Roof as they were the most competitively priced and were so easy to deal with over the phone and by email. Loved the simplicity and the ability to DIY for those on a budget!The delivery time was super quick and everything was supplied in the kit, right down to the tube of silicone! We love the sleek look of our Flyover and it was the finishing touch we were looking for to complete our new garage.Now we have a cool place to sit in the shade during the summer arvo's, and a place to keep the kid's toys dry when it rains. Thanks SmartKits, we couldn't be happier
Michelle M
Skillion, Insulated Freestanding Patio complete with our Smartascreen privacy screen!
Our SmartKit Freestanding Insulated Patio kit has been the framework for our pool gazebo. We love the quality of the materials, love that it is all Australian products, the ease of construction and the value for money. Thank you to the wonderful friendly and helpful staff!My dad and husband have spent many weekends putting the pool gazebo together as we started with a blank canvas. It is nearly complete with just the floor tiling to go. We can't wait for summer, to get endless hours of use. We love our SmartKit!